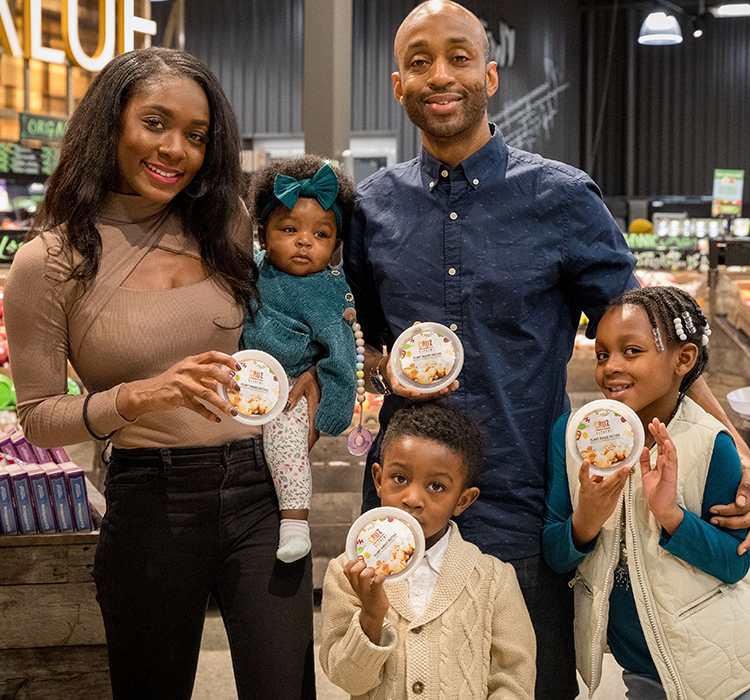 "OLD SCHOOL VEGGIE BURGER, NEW SCHOOL FLAVOR" PLANT-BASED PATTIES MADE FROM MUSHROOMS LAUNCH IN MICHIGAN STORES
Published By Mushroom Angel
DETROIT, MICHIGAN –  Cruz Burgers recently launched its new product in stores across the metro-Detroit area. It's a plant-based burger patty made from mushrooms. The company was founded during the global pandemic and initially sold  online. 
"Our family is excited to share our work with the world," said Dominique Da'Cruz, cofounder of Cruz Burgers. "The English word for Cruz translates to "Cross". We are a "Cross" burger, a place where people can cross paths – vegans, vegetarians, meat lovers alike, can sit at the same table and enjoy the same meal," he explained.
From online orders to in-person demos at Eastern and Ann Arbor Farmers' Market weekly, Cruz Burgers is becoming a fan favorite. A vegetarian customer and market goer said, "It's trying to be its own thing. It's a delicious burger without being a meat impersonator." The patties are celebrated for their flavorful taste. "That was the best veggie burger I've ever had; it was seasoned!," explained another market sampler. 
According to cofounder, Wendy Ekua (W.E.) Da'Cruz, mainstream alternative meat products are highly processed, contain GMOs, and at times even hazardous to one's health. She said, "We use simple and fresh ingredients that everyone can pronounce."
The husband and wife duo discovered the recipe in their home kitchen after participating in a faith-based fast (Daniel's Fast) removing meat from their diet as a family at the peak of the pandemic. Today, Cruz Burgers can be found at Rivertown Market Detroit by Meijers downtown, Woodward Corner Ave Market in Royal Oak, Bridgestreet Market in Grand Rapids, Capital City Market in Lansing, Western Market in Ferndale, both Argus Farms Stop in Ann Arbor, Michigan, and all 4 Westborn Market locations in Berkley, Plymouth, Dearborn and Livonia, Michigan.
"We spent most of last year sampling our product for feedback on taste while we perfected the recipe," explains Dominique. "The last seven months since launching in the market was about understanding where to find our customers. We've figured out both and now we are going where they are asking us to come."
Cruz Burgers are frozen patties sold in units of two (2) at stores. Larger orders can be made online as an eight (8) or sixteen (16) pack. The patties are made from portobello mushrooms mixed with fresh ingredients and seasonings including smoked paprika and barbecue. The patties cook within 7 to 10 minutes each side on a preheated skillet. They have a wide cook range from medium well to well-done. Customers have cooked the patties into cheesesteaks, vegan chili, tacos and more.
"Our one patty can be plated multiple ways," said W.E. "This is why they are convenient, nutritious and delicious." Additional information about ingredients and nutritional facts can be found on the FAQs page on the website.
About Cruz Burgers
The Mushroom Angel LLC DBA Cruz Burgers is a consumer packaged goods company specializing in producing alternative meats made from mushrooms.